KRK's decision to make biopic on Sushant Singh Rajput opposed by netizens (Latest Update)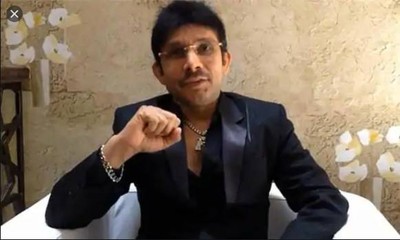 KRK's decision to make biopic on Sushant Singh Rajput opposed by netizens
Kamaal R Khan dragged by netizens as he wanted to make biopic on Sushant Singh Rajput, but everyone is assuming it KRK's greed.
As things are getting out of hands and netizens are demanding the justice for Sushant Singh Rajput.
Where further Kaam R Khan also tweeted that ," bollywood never helps anyone, this is the place where you have to deal with all your problems while dealing with other issues.
Kamaal R Khan's revelations on biopic of Sushant Singh Rajput
However where further amid all this, Kamaal R Khan shared that I confirms Bihar's talented singer Vikas Gop will compose music for my film biopic of Sushant Singh Rajput!
Vikas will sing all the songs and I liked his song and requested him to compose music for my film,
But amid all this netizens are also furious as KRK that Sushant's family is in major grief and that KRK is trying to get money from his death content.
What are your views about it?
Stay Tuned with Serial Gossip.com for more exciting updates and upcoming twists in shows.
Latest Sushant Singh Rajput Updates