YRKKH: Naira overseas Surekha bribing goons unexpected mystery unmasked (Upcoming Twist)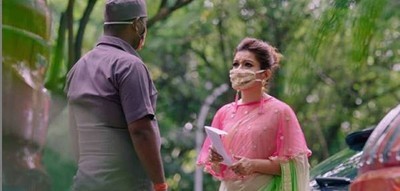 Yeh Rishta Kya Kehlata Hai: Naira hand on shocking clue, Sulekha hiding something
Yeh Rishta Kya Kehlata Hai is one of the most popular show of Star Plus casting Shivangi Joshi and Mohsin Khan in main tracks is up for some interesting twists and turns in upcoming track.
As per latest track Naira plans to get the truth where she hands on big mystery of Sita and Kundan and get shocked that duo trapped Kartik for own revenge.
While further Naira gets the clue that Kartik car is alright while Naira overseas Sulekha bribing someone and get shocked with all this.
Naira's hand on big mystery
However where further it is revealed that Sulekha went to same mandir to meet Luv Kush while Akhil gets furious that she again involved Kartik in all this.
Will Naira able to safeguard Kartik from all this?
It would be interesting to see what will happen next in the show yeh Rishta Kya Kehlata Hai.
till then, stay tuned with serial Gossip.com for more exciting updates and upcoming twists in the shows.
Latest Yeh Rishta Kya Kehlata Hai Updates