YRKKH: Surekha real mastermind trapping Kartik gets Naira misunderstand (Upcoming Twist)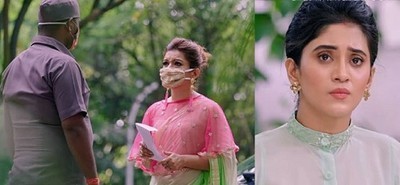 Yeh Rishta Kya Kehlata Hai: Surekha real mastermind trapping Kartik Naira gets shocking proof
Popular running TV show Yeh Rishta Kya Kehlata Hai is up for Naira's mission to rescue Kartik.
Naira gets stubborn to fetch the truth that then she comes across a big shocking truth when she finds Surekha bribing a person.
Naira gets suspicious of Surekha thinking if Surekha did the accident and Kartik took the blame just like what happened with Mansi.
Naira is heartbroken assuming everything and blindly misunderstands the situation that Surekha is the real mastermind.
Thanks to Akhilesh who opens Naira's eyes before Naira could take any extreme step in misunderstanding.
Naira to rescue Kartik in Yeh Rishta Kya Kehlata Hai
Naira gets to see Akhilesh and Surekha argument where Akhilesh questions about her visit.
Surekha finally confesses that she sent food packages to Luv and Kush and she hid from everyone because no one would have allowed her to do so especially Akhilesh.
Naira misunderstands Surekha's hand in getting Kartik arrested but now the truth is out.
This is going to be interesting to watch how Naira will find the real truth behind why Kartik got himself arrested.
Keep reading entertainment news website Serialgossip.com for more quick updates on top TV shows and popular Hindi serials.
Latest Yeh Rishta Kya Kehlata Hai Updates