Kundali Bhagya: Karan Preeta yearns for reunion amid unwanted marriage (Upcoming Twist)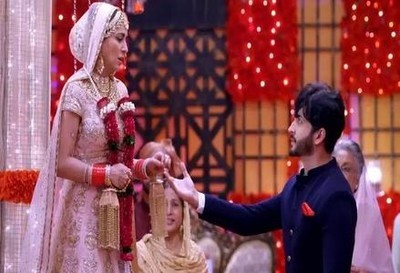 Kundali Bhagya: Karan (Dheeraj Dhooper) and Preeta (Shraddha Arya) yearns for reunion amid unwanted marriage
The upcoming episode of ZEE TV most popular serial Kundali Bhagya will showcase interesting twist and turn in Karan and Preeta's life.
As per the recent episodes it is seen that Karan is worrying Preeta as he feels betrayed in love due to Sherlyn's evil planning.
Now Karan is determined to marry Mahira just to exact his revenge on Preeta and settle scores.
Preeta too shows off that she is not bothered but in real both of them love each other and is completely broken within.
Karan is ready to marry Mahira and calls Mahira in wedding mandap.
Karan and Preeta's destined to be together
In real both Karan and Preeta are yearning for reunion.
It would be really interesting to see what destiny holds for Karan and Preeta.
Will Karan leave Preeta and marry Mahira?
Will Preeta let this marriage happen?
Wait and watch for future story on Kundali Bhagya.
Latest Kundali Bhagya Updates