Aye Mere Humsafar: Ved Vidhi's first meeting Pratibha's prayer answered (Upcoming Story)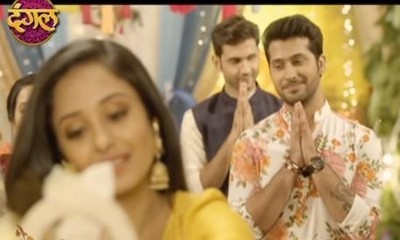 Aye Mere Humsafar: Ved (Namish Taneja) Vidhi's (Tina Philip) first meeting Pratibha's prayer answered
The upcoming episode of Dangal TV serial Aye Mere Humsafar will showcase interesting and turn.
It seems Ved and Vidhi reach the Haveli for Janmashtami decoration.
Vidhi advices Ved unknown of his real identity and asks him to follow the instructions.
When Ved and Vidhi comes face to face they get into a filmy romantic moment.
Later Vidhi completes the décor when Pratibha makes her entry.
Pratibha (Neelu Waghela) appreciates Vidhi
Pratibha appreciates Vidhi a lot wants Radha like her for son Krishna aka Ved.
It would be really interesting to see if Ved likes Vidhi and agrees to marry her.
Keep reading serialgossip.com for more updates on Aye Mere Humsafar.
Latest Aye Mere Humsafar Updates