Kumkum Bhagya: Ranbir Prachi make wedding promise get intimate in love (Upcoming Twist)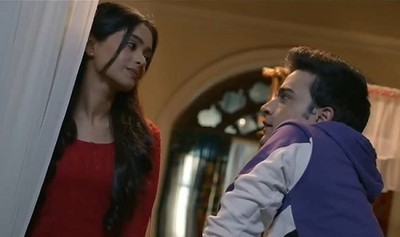 Kumkum Bhagya: Ranbir Prachi make wedding promise unaware of a new villain
Zee TV serial Kumkum Bhagya is going to see a very romantic confession amid Ranbir and Prachi.
Ranbir and Prachi have realized their love but the only wait is for their love confession.
In the meantime, Ranbir sneaks in Prachi's room after Sanju is caught and all the misunderstandings are solved.
Ranbir and Prachi have a romantic chit-chat while Ranbir and Prachi indirectly confess their love.
Ranbir wants to protect Prachi and promises to stay by her for the whole life.
Ranbir and Prachi also make their wedding promises when Ranbir wants to make a marriage proposal but ends up asking Prachi to stay beside him when he will get married.
The villain in Ranbir and Prachi's love story
Ranbir and Prachi are passionately in love with each other but are completely unaware of Rhea turning out villain in their love story.
What will happen next in Kumkum Bhagya after Ranbir and Prachi will finally get in a love relationship is worth to watch,
Till then keep reading serialgossip.com for more updates and latest news.
Latest Kumkum Bhagya Updates