Kumkum Bhagya: Rhea's new plan to disturb Ranbir & Prachi's love story (Upcoming Story)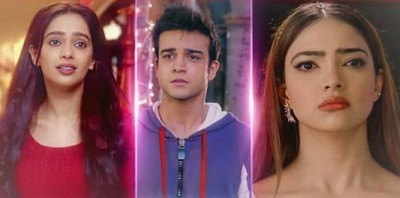 Kumkum Bhagya: Rhea's new plan to disturb Ranbir & Prachi's love story
The upcoming story of ZEE TV serial Kumkum Bhagya will see Rhea's new plan against Ranbir and Prachi.
Ranbir and Prachi are totally in love and decide to confess their feelings before it gets too late.
However, Ranbir and Prachi's love story will not go as easy as they thought off.
Ranbir comes to Prachi's house in midnight when they both talk romantic and share a lovey-dovey time together.
Ranbir and Prachi's love is now going to face a traumatic time when Rhea swears to separate Ranbir and Prachi.
Misunderstandings amid Ranbir and Prachi
Rhea is pissed off with Ranbir's increasing closeness with Prachi.
Rhea thus gets in action mode with her new plan against the lovey-dovey couple Ranbir and Prachi.
What will happen next in Kumkum Bhagya after Rhea started to plan and plot against Ranbir and Prachi is worth to watch,
Stay tuned to Serialgossip.com for more updates and latest news of top TV shows.
Latest Kumkum Bhagya Updates