Barrister Babu: Saudamini makes Anirudh dance on her tunes against Bondita (Upcoming Twist)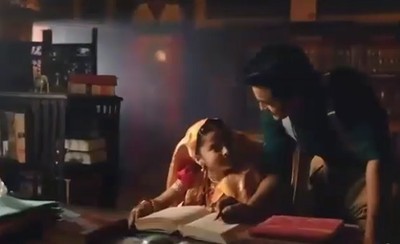 Saudamini (Pranali Rathod) plays the dirty game with Anirudh (Pravisht Mishra) and Bondita (Aura Bhatnagar Badoni) in Barrister Babu
Colors serial Barrister Babu is looking forward to some high-intensity drama and twists and turns.
Anirudh takes a surprising decision of becoming Bondita's new teacher.
Bondita is on cloud nine to get her husband as her teacher and Guru.
The circumstances take a toll when Saudamini's sick drama brings Anirudh back to her leaving Bondita all alone.
Bondita's marital life in danger
Bondita is studying hard in hope that one day her 'Pati Babu' aka Anirudh will make her a proud Barrister and she will end all the social problems but Anirudh is busy with the stupid girl Saudamini.
What will happen next in Barrister Babu when Saudamini is keeping Anirudh away from Bondita?
Will Bondita's marital life with Anirudh end up in Saudamini's dirty game.
Keep reading entertainment news website Serialgossip.com for more quick updates and latest news.
Latest Barrister Babu Updates