Kumkum Bhagya: Prachi hops in to marry Ranbir replaces Maya in mandap (Upcoming Twist)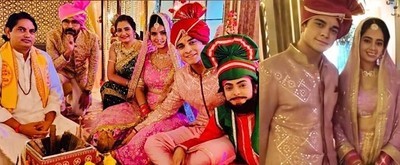 Ranbir (Krishna Kaul) and Prachi (Mugdha Chaphekar) love to finally get name in Kumkum Bhagya
The popular TV serial Kumkum Bhagya is going to see Ranbir and Prachi's exciting wedding.
Ranbir and Maya are ready to get married where Maya sits in wedding mandap alongside Ranbir.
The story will take a u-turn when Prachi will replace Maya in the wedding mandap.
Maya wants to marry her lover Rahul but her parents are forcing her to marry Ranbir.
Interestingly, Ranbir and Prachi will finally sit in mandap to get married when Maya will elope with Rahul.
What will happen next in Kumkum Bhagya is quite hard to digest as Rhea learns about Prachi replacing Maya to marry Ranbir.
Ranbir and Prachi's love in danger
Ranbir and Prachi's love is in danger as Rhea learned their plans.
This is going to be challenging for Ranbir and Prachi to get married when the enemy is just a step away to ruin their plan.
Stay up to date with Serialgossip.com for popular top TV shows and Hindi serial.
Latest Kumkum Bhagya Updates