Kundali Bhagya: Bossy Karan demands his husband right from Preeta (Upcoming Twist)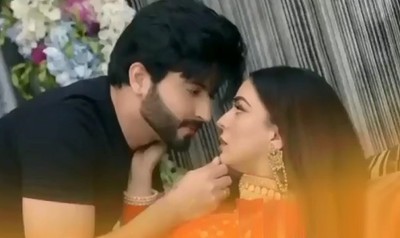 Karan (Dheeraj Dhoopar) and Preeta's (Shraddha Arya) romantic wedding night in Kundali Bhagya
Zee TV show Kundali Bhagya is finally going to see the most awaited Karan and Preeta's wedding night.
Mahira and Sherlyn's plans fail drastically and Karan finally accepts Preeta as his wife.
Preeta surely got her wife rights but what about Karan is now going to bring a sizzling twist in the story.
Preeta apologizes to Karan and wants his forgiveness that Preeta tries impressing Karan on their first wedding night.
Though Karan hates Preeta for what she did with his family, Karan will suddenly turn a bossy husband to answer Preeta's romantic approach.
Karan and Preeta's romance on peak
Karan will unexpectedly get closer to Preeta when he lifts Preeta's face and lovingly demands his husband right from her.
Karan is going to be more dominant than what Preeta hoped.
Let's see if Karan and Preeta's wedding night will cross the line of romance or everything will go in vain.
Stay tuned to Serialgossip.com for more updates and latest news of top TV shows.
Latest Kundali Bhagya Updates