Anupama: Smart Anupama's bold move against Rakhi for Paritosh-Kinjal (Upcoming Twist)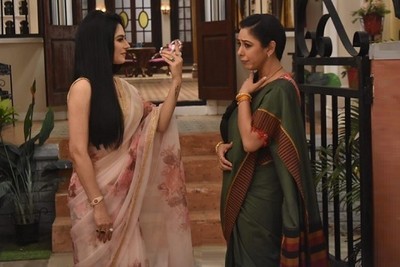 Anupama (Rupali Ganguly) refuses to fall weak against Rakhi's (Tasneem Sheikh) dirty tricks in Anupama
Popular TV serial Anupama is going to see major ups and downs in the storyline but Anupama is once again going to slay.
Rakhi has surely made her plans to break this marriage alliance and force the Shahs to give up.
However Anupama is too ready with her smart plans to fail Rakhi's evil tricks and get her son Paritosh married to his love at any cost.
What will happen next in Anupama is quiet interesting as Anupama has a new idea pop up in her mind against Rakhi's expensive diamond ring demand.
Paritosh (Aashish Mehrotra) and Kinjal's (Nidhi Shah) wedding bells to ring
Anupama is not ready to lose her son again just because Rakhi will break this marriage.
Anupama's new plan is going to give a befitting reply to what Rakhi demanded from them in lieu of lavish engagement ceremony.
Let's see how Anupama will get Paritosh and Kinjal married.
Stay tuned to Serialgossip.com for more updates and latest news of top TV shows.
Latest Anupama Updates