Anupama Spoiler: Kavya's new plan to marry Vanraj and oust Anupama (Latest Spoilers Alert)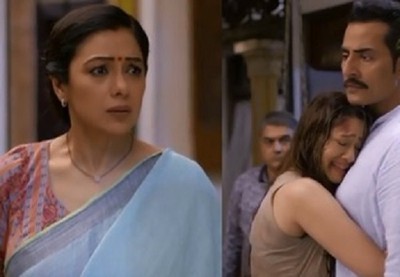 Vanraj (Sudhanshu Pandey) and Anupama's (Rupali Ganguly) marital life awaits new storm in Anupama
The upcoming twist in Anupama Hindi serial is going to bring a turning point in Anupama's life.
Anupama and Vanraj's relationship is facing a hard time after how Anirudh exposed Kavya and Vanraj's affair.
Vanraj wants to make Anupama believe in him, not in Anirudh.
The circumstances will now go bad as Kavya is not ready to lose Vanraj to Anupama and thus makes her cheap plan.
Kavya's (Madalsa Sharma) drama to get live with Vanraj
Kavya's fake molestation drama wins sympathy from Anupama that innocent Anupama compels Kavya to stay with them in their house.
Anupama's such step is going to knock in problems for her only when Kavya will decide to completely snatch Vanraj from Anupama.
How Anupama is going to fight Kavya's dirty plans is worth to watch.
Stay tuned to Serialgossip.com for more updates and latest news of top TV shows.
Latest Anupama Updates