Kumkum Bhagya: Rhea swaps Prachi to marry Ranbir new syappa in Kumkum Bhagya (Upcoming Twist)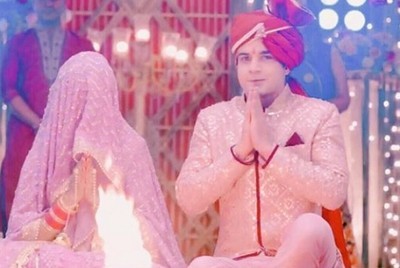 Rhea swaps Prachi (Mugdha Chaphekar) to marry Ranbir (Krishna Kaul) new syappa in Kumkum Bhagya
Zee TV serial Kumkum Bhagya is up for extreme twist in Ranbir and Prachi's wedding.
Maya turns to hurt Prachi when Ranbir saves Prachi while unfortunately, Maya faints unconsciously.
Now Ranbir urges Prachi to marry him while when Prachi swaps Maya in the mandap to marry Ranbir,
Ranbir and Prachi are super happy to get married.
However, Rhea is not ready to lose Ranbir as she thinks Ranbir only belongs to her.
Further, in the coming episodes, Ranbir and Prachi will face a major setback because Aaliya has planned to swap Rhea with Maya being unaware of Prachi already swapped Maya.
Rhea (Pooja Banerjee) to separate Ranbir and Prachi
Rhea agrees to Aaliya's plan thinking now no one can stop her from getting Ranbir.
This is going to be highly intensified to watch what will happen now when Rhea is going to swap Prachi in the mandap and marry Ranbir.
Stay up to date with Serialgossip.com for popular top TV shows and Hindi serial.
Latest Kumkum Bhagya Updates