Yeh Rishtey Hai Pyaar Ke: Kuhu to expose Meenakshi angered with Mishti's Godh Bharai (Upcoming Twist)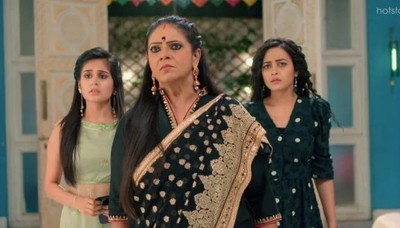 Yeh Rishtey Hai Pyaar Ke: Kuhu to expose Meenakshi angered with Mishti's Godh Bharai
The upcoming episode of Star Plus most popular serial Yeh Rishtey Hai Pyaar Ke will showcase interesting twist and turn.
It was earlier seen that Kuhu refuses to keep her Godh Bharai but wanted Baby Shower.
Hence left with no other option Abeer and Mishti decides to organise Kuhu's baby shower the party she wanted.
However to fulfil Rajshri's wish Abeer Mishti decides to keep the Godh Bharai too.
Rajshri Meenakshi Parul and entire family members attend Mishti's Godh Bharai and gives her blessing as in real she is going to be the mother and does not bother Kuhu.
Kuhu loses cool and exposes Meenakshi's legal heir deal
While Kuhu learns about Mishti's Godh Bharai and loses her temperament.
Kuhu starts her tantrums once again where Meenakshi stops her.
Kuhu loses her cool and exposes Meenakshi's deal for legal heir with surrogacy.
How will Abeer and Mishti react to this shocking development?
Stay tuned and keep reading serialgossip.com for more updates.
Latest Yeh Rishtey Hai Pyaar Ke Updates