Yeh Rishtey Hai Pyaar Ke: Abeer guilty of unborn baby creating tension amid Mishti Kunal Kuhu (Upcoming Story)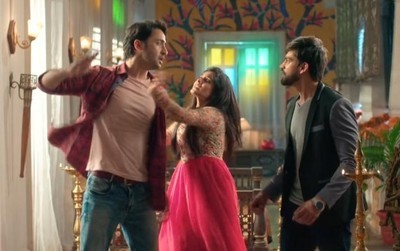 Yeh Rishtey Hai Pyaar Ke: Kunal (Avinash Mishra) counts Kuhu's (Kaveri Priyam) big sacrifice for Abeer (Shaheer Sheikh) Mishti (Rhea Sharma)
Star Plus serial Yeh Rishtey Hai Pyaar Ke will showcase high voltage drama in the upcoming episode.
It was earlier seen that Mishti's Godh Bharai does not go down well with Kuhu.
Kuhu starts making noise due to which her blood pressure level shoots up.
Doctor asks to take care of Kuhu where Mishti apologize before Kunal for being a bit careless and hurting Kuhu's sentiments.
Abeer guilty of unborn baby creating tensions in realtion
Kunal loses his cool where he scolds Mishti and refuses to trust her anymore.
Further Kunal also warns Abeer Mishti to stay away from Kuhu and he himself will take care of her.
Shockingly Kunal also makes Abeer Mishti count Kuhu's big sacrifice made for them.
Abeer feels guilty as the baby is giving much tension before the delivery and fear about the future story.
Keep tuned to serial exclusive gossip and latest news on entertainment news website serialgossip.com
Latest Yeh Rishtey Hai Pyaar Ke Updates