Yeh Hai Chahatein: Balraj kicks Rudraksh out of house Prisha Saransh also walks out (Upcoming Story)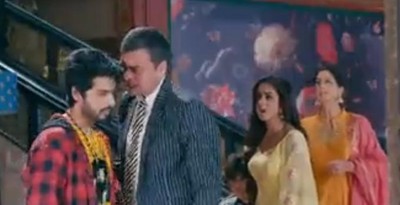 Yeh Hai Chahatein: Balraj kicks Rudraksh out of house Prisha Saransh also walks out
Star Plus serial Yeh Hai Chahatein will showcase will showcase interestingly shocking twist in the upcoming episode.
As Rahul expose Prisha before everyone, Prisha takes a stand for self and exposes Rahul's cheap and dirty plotting.
Prisha reveals everything about Rahul leaving Rudraksh shocked.
Adding more drama to the same Prisha also tags Rudraksh as her husband leaving Rudraksh overwhelmed in love.
Rudraksh believes Prisha's words against everyone.
Rahul Yuvraj Ahana's new plan to kick Rudraksh from house
But Rahul and Yuvraj along with Ahana does not keep quiet.
They plot one more plan making Balraj asking Rudraksh to prove their innocence.
Rudraksh gets angered and raise hand on Balraj who ousts him from the house.
Prisha will be see supporting Rudraksh and walks out of Balraj's house with Rudkraksh and Saransh.
Stay tuned for the upcoming twist in Yeh Hai Chahatein.
Latest Yeh Hai Chahatein Updates