Yeh Rishtey Hai Pyaar Ke: Abeer Mishti decides to uncover Meenakshi Kuhu's deal before Kunal (Upcoming Twist)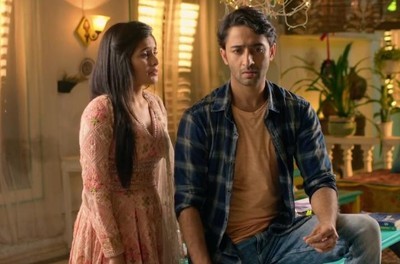 Yeh Rishtey Hai Pyaar Ke: Abeer Mishti decides to uncover Meenakshi Kuhu's deal before Kunal
The upcoming episode of Star Plus serial Yeh Rishtey Hai Pyaar Ke will showcase interesting twist and turn.
It was earlier seen that Kuhu has turned Abeer Mishti's world upside down.
However Abeer suspect a foul play behind Meenakshi and Kuhu.
Abeer gets to overhear Meenakshi and Kuhu's conversation about their deal.
Abeer thus confronts Meenakshi's lawyer when he comes to know about Meenakshi Kuhu's business deal for the baby.
Abeer Mishti wants Kunal to see Kuhu's reality
Abeer exposes Meenakshi before Mishti where Mishti feels heartbroken hearing that their upcoming baby is just a business deal.
While Abeer and Mishti decides to bring this truth out before Kunal and make him learn about Kuhu's move.
Will Kunal finally learn about Kuhu's big wrong?
Let's wait and watch.
Latest Yeh Rishtey Hai Pyaar Ke Updates