Yeh Rishtey Hai Pyaar Ke: Meenakshi to accept blame of forcing Kuhu for surrogacy (Upcoming Twist)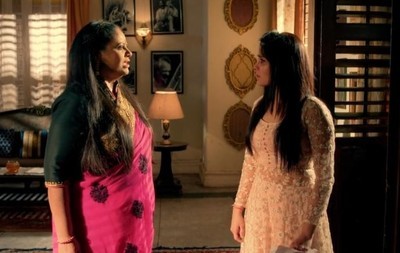 Yeh Rishtey Hai Pyaar Ke: Meenakshi to accept blame of forcing Kuhu for surrogacy
Star Plus popular serial Yeh Rishtey Hai Pyaar Ke will showcase interesting drama.
It was earlier seen that Meenkashi was adamant to get heir for her family.
As Mishti was unable to turn pregnant, Meenakshi asked Kuhu to turn Abeer Mishti's surrogate mother.
Meenakshi thought Kuhu was easy to handle with bribe.
But Kuhu turned Meenakshi, Abeer Mishti Kunal everyones life upside down with her constant tantrums.
Meenakshi regrets forcing Kuhu for surrogacy
Mishti speaks her heart to Meenakshi and pacifies Meenakshi saying that she is very aware that she only want her son Abeer to live a happy life.
At this time Meenakshi regrets as she realises her mistake of choosing Kuhu for surrogacy who created major conflict and problems in the family.
Let's wait and watch for the upcoming twist in YRHPK.
Latest Yeh Rishtey Hai Pyaar Ke Updates