Yeh Rishtey Hai Pyaar Ke: Kuhu finally vomits truth before Kunal sorry for Abeer Mishti (Upcoming Twist)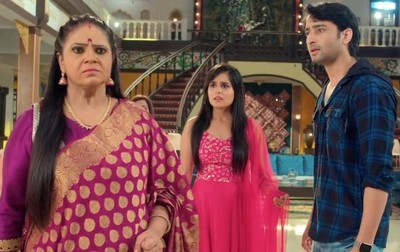 Yeh Rishtey Hai Pyaar Ke: Kuhu (Kaveri Priyam) finally vomits truth before Kunal (Avinash Mishra) sorry for Abeer Mishti
Star Plus serial Yeh Rishtey Hai Pyaar Ke will showcase interesting high voltage drama.
It was earlier seen that Kuhu manipulated entire Rajvansh family where she made everyone dance to her tunes just because she was pregnant.
Further Kuhu made Kunal against Abeer and Mishti.
Kuhu wants Kunal's share of business and property and hence she accepted the business deal from Meenakshi.
Meenakshi agreed for the sake of her heir that is Abeer and Mishti's son.
Now Abeer and Mishti comes to know the entire truth of Kuhu.
Kunal shocked to know Kuhu's reality
Abeer and Mishti wants Kunal to see the real truth.
Kunal gets shocked to know the reality of Kuhu where he feels extremely sorry to support Kuhu's wrong all this while.
Kunal begs for apology before Abeer and Mishti for all his mistakes done.
Will Abeer and Mishti forgive Kunal and Kuhu?
Let's wait and watch.
Latest Yeh Rishtey Hai Pyaar Ke Updates