Yeh Hai Chahatein: Rudraksh's new love interest Keerthi to boost his career Prisha insecure (Upcoming Twist)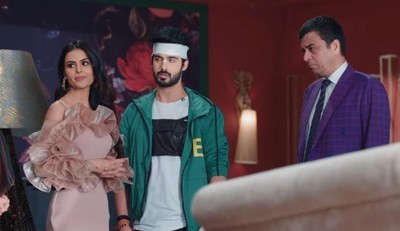 Yeh Hai Chahatein: Rudraksh's (Abrar Qazi) new love interest Keerthi to boost his career Prisha (Sargun Kaur Luthra) insecure
The upcoming episode of Star Plus serial Yeh Hai Chahatein will showcase new entry on show of Rudraksh's new love interest.
It was earlier seen that Rudrkash is banned in music industry over his video going viral defaming Balraj.
Balraj and Rudraksh are tensed over his career and so is Prisha.
Ahana and Mishka wants to see Balraj ruined but wants his entire property.
While now everyone is tensed over Rudraksh being banned and Prisha watches silently in distress.
Suddenly Keerthi marks her entry leaving Balraj Rudrkash impressed as she can remove the ban on Rudrkash.
Keerthi's entry to spice up Rudraksh and Prisha's love story
Keerthi had earlier worked with Rudrkash in one of music video.
Keerthi promises to get rid of the ban on Rudraksh and hugs him leaving Prisha insecure.
Let's see what new twist Keerthi's entry creates in Rudraksh and Prisha's love life.
Keep tuned to serialgossip.com for more updates on Yeh Hai Chahatein.
Latest Yeh Hai Chahatein Updates