Ishq Mein Marjawan 2: Ridhima takes stand for Kabir against Vansh (Upcoming Episode)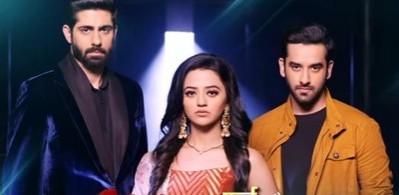 Ishq Mein Marjawan 2: Ridhima (Helly Shah) takes stand for Kabir (Vishah Vashishtha) against Vansh (Rrhaul Sudhir)
Colors most popular serial Ishq Mein Marjawan 2 will showcase interesting twist and turn.
It was earlier seen that Vanh marks his return in VR Mansion when Kabir and Ridhima were discussing their love affair behind Vansh's back.
However Vansh is already aware of Ridhima's past love Kabir.
Furthermore Vansh exposes Kabir's reality before one and all leaving him shocked to the core.
Shockingly Vansh is not ready to spare Kabir and keeps him at gun point.
Vansh is seen back in his fierce avatar leaving Ridhima scared to the core along with Anupriya.
Ridhima saves Kabir's life from Vansh
Vansh was all set to shoot Kabir where Ridhima jumps in and saves Kabir's life.
Upsetting twist in Vansh's life where he gets the evidence that Ridhima loves Kabir and not him.
It would be really interesting to see what happens next on the show post Vansh learns Ridhima loves Kabir.
Stay tuned and keep reading serialgosip.com for more updates on IMM2.
Latest Ishq Mein Marjawan 2 Updates