Yeh Hai Chahatein: Prisha's kiss of love for Rudraksh's quick recovery (Upcoming Story)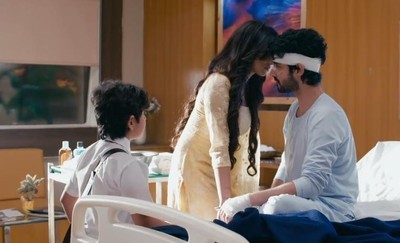 Yeh Hai Chahatein: Prisha's (Sargun Kaur Luthra) kiss of love for Rudraksh's (Abrar Qazi) quick recovery
The upcoming episode of Star Plus serial Yeh Hai Chahatein will showcase interesting twist and turn.
Rudraksh meets with deadly accident and he is hospitalised.Prisha takes care and worries for Rudraksh while entire family sideline her.
Ahana and Mishka takes advantage of the same and takes Rudraksh on his side.
On the other side Rudrkash is extremely furious on Prisha over her cheat with love Yuvraj and Rahul.
Rudrkash torture Prisha and this gets witnessed by Saaransh.
Saaransh questions Rudra over his rude behaviour towards Prisha.
Saaransh makes sure Rudraksh Prisha are united
While Rudra changes the topic and reveals that they are playing the game.
Saaransh is also smart where he asks Prisha to kiss Rudraksh's wound so that he recovers soon.
Prisha's kiss of love makes Rudrkash get well soon and he gets discharge.
Keep reading serialgossip.com for latest development on Star Plus serial Yeh Hai Chahatein.
Latest Yeh Hai Chahatein Updates