Ishq Mein Marjawan 2: Ridhima falls in Vansh's eyes to turn whole game (Upcoming Twist)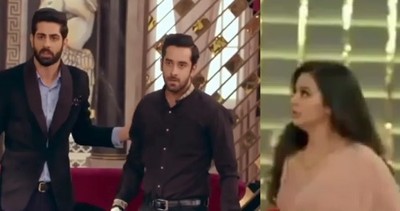 Ishq Mein Marjawan 2: Ridhima falls in Vansh's eyes to turn the whole game
Vansh and Ridhima's love and revenge saga 'Ishq Mein Marjawan 2' is going to see the biggest turning point in the storyline.
Vansh and Ridhima both have their major confrontation when Vansh senses her nervousness.
Kabir who hides is finally caught red-handed by Vansh and this has left everyone stumbled to the core.
Ridhima gets hell shocked when Vansh gets angry and points the gun at Kabir to kill him dead.
What will happen next in Ishq Mein Marjawan 2 is hard enough for Ridhima to handle as Vansh determines to kill Kabir and Kabir triggers Vansh to shoot the gun.
Ridhima to trap Vansh and Kabir both
Ridhima will take a quick step where she will recklessly shove away Vansh's hand protecting Kabir.
Vansh is stunned to see Ridhima's such step while Kabir smirks.
However, Vansh and Kabir both are unaware of Ridhima's next step when she will mislead both turning the whole game against them.
Let's see how this time Ridhima will finally know Vansh's truth and Kabir's intentions.
Stay up to date with Serialgossip.com for more entertainment news and TV serial twists.
Latest Ishq Mein Marjawan 2 Updates