Choti Sardarni: Manav's madness to badly affecting Sarabjit-Meher marriage (Upcoming Story)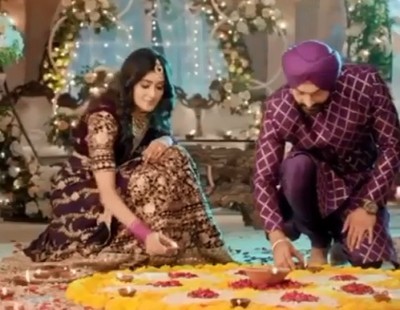 Choti Sardarni: Manav's (Hitesh Bharadwaj) madness for Meher badly making Sarabjit (Avinesh Rekhi) misunderstand Meher (Nimrat Kaur Ahluwalia)
The daily TV show 'Choti Sardarni' is looking forward for more drama and twists and turns in Sarabjit and Meher's marital life.
Sarabjit and Meher are happy in their love life when suddenly Manav's return complicates their life.
Manav's madness for Meher has started to affect Sarabjit and Meher's relationship and the situation is deteriorating with the passing time.
Now when Navratri comes and Sarabjit Meher both return back to their home,
Manav follows them which is ultimately displeasing Sarabjit.
Sarabjit and Manav's cold war
Sarabjit and Manav will have their cold war soon for Meher but let's see if Meher and Sarabjit's love could stay strong before Manav's obsession for Meher.
Keep reading entertainment news website Serialgossip.com for everyday update and latest news.
Latest Choti Sardarni Updates