Kundali Bhagya: Preeta's best revenge on Mahira past returning back to Karan (Upcoming Twist)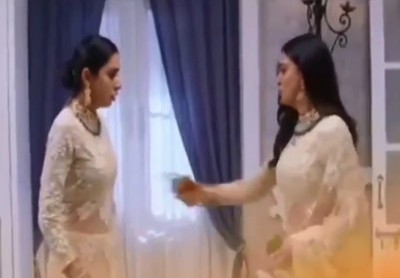 Kundali Bhagya: Preeta's best revenge on Mahira past returning back to Karan
The upcoming twist of Kundali Bhagya, the top TV serial is looking forward to witnessing the ferocious face-off between Preeta and Mahira.
Preeta elopes from the nasty trap of Prithvi and Pawan.
When Sameer and Srishti turn help hands to Preeta, Preeta is finally back in action to teach a good lesson to Mahira and Sherlyn.
Preeta confronts Mahira when Mahira gets stumbled seeing Preeta in the Luthra house.
This much shocker wasn't enough for Mahira that Preeta splits the whole glass of juice on Mahira's saree.
Preeta takes her best revenge from Mahira when now she will replace Mahira and turn the whole dirty game of Mahira upside down.
Preeta and Karan's romance in Kundali Bhagya
Moving little further, Karan and Preeta will give their romantic dance performance at the reception party.
This is getting seriously interesting to watch how Preeta will expose Mahira's evil face before Karan and the whole big fat Luthra family.
Keep reading entertainment news website Serialgossip.com for every day update and latest news.
Latest Kundali Bhagya Updates