Barrister Babu: Anirudh burns Saudamini alive plays brilliant mind game (Upcoming Twist)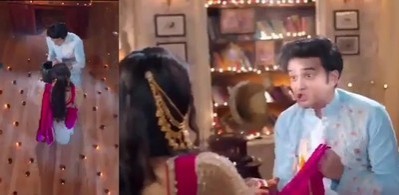 Barrister Babu: Anirudh burns Saudamini alive plays brilliant mind game
Colors serial Barrister Babu is going to see major twists and turns in the upcoming story.
Anirudh knows the disgusting truth of Saudamini about how she is faking her blindness.
Anirudh has no proof to expose her truth that finally he comes with a master plan.
Anirudh enlights diyas in a room and surprises Saudamini with his love proposal.
Saudamini's happiness comes to a drastic end when Anirudh pours kerosene on Saudamini and burns her saree.
Anirudh fakes his love and compels Saudamini to die with him but he only burns her.
Anirudh breaks all ties with Saudamini
Saudamini gets frightened and moves back saving herself and finally, Anirudh succeeds.
Anirudh finally exposes the fake blindness drama of Saudamini and how she used it to get closer to him.
Let's see how Anirudh will close Saudamini's chapter in Barrister Babu.
Latest Barrister Babu Updates