Yeh Hai Chahatein: Yuvraj takes Prisha to meet Mahima in Rudraksh's absence (Upcoming Story)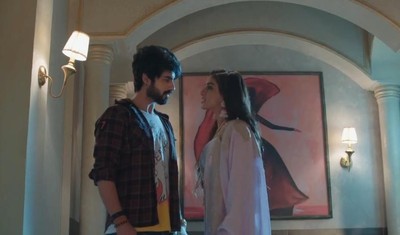 Yeh Hai Chahatein: Yuvraj (Siddharth Shivpuri) takes Prisha (Sargun Kaur Luthra) to meet Mahima in Rudraksh's (Abrar Qazi)absence
The upcoming episode of Star Plus serial Yeh Hai Chahatein will showcase interesting twist and turn.
Earlier it was seen that Rudraksh and Prisha comes to honeymoon in Ooty.
Prisha refuses to confess love for Rudraksh where Rudraksh tries to get Prisha comfortable.
On the other side Mahima also comes with Yuvraj where she wants to meet Saransh soon and get his custody.
Mahima waits for the right time as she does not want to ruin Prisha's happiness.
Yuvraj fails to wait for Mahima and meets Prisha
Now Yuvraj cannot wait anymore and hence he reveals the big truth to Prisha.
Yuvraj takes Prisha along with him to make her meet Mahima in Rudraksh's absence.
How will Rudrkash react on knowing Prisha is gone with Yuvraj?
Let's wait and watch.
Latest Yeh Hai Chahatein Updates