Kumkum Bhagya: Heartbreaking moment of Pragya and Rhea to set everything fine (Upcoming Twist)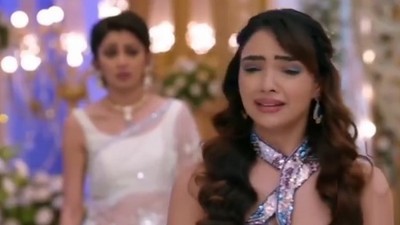 Kumkum Bhagya: Heartbreaking moment of Pragya and Rhea to set everything fine
The upcoming twist in Kumkum Bhagya will see Pragya and Rhea heartbreaking confession.
Pragya and Prachi attend the Diwali function of Mehras.
Pragya wants to spend some motherly time with Rhea and shower her love and care on her but Rhea denies.
Rhea stays upset with Pragya after how Aaliya fueled so much hate in Rhea's heart.
Pragya and Rhea finally get a chance to reconcile where Rhea complaints Pragya's ignorance and hate for her daughter.
Rhea to forgive Pragya against Aaliya
Rhea very well knows about how much Pragya loves her as a mother but isn't accepting her because of Aaliya.
Rhea will give a chance to Pragya's motherly love against Aaliya.
Let's see how everything will get fine after Pragya and Rhea's emotional breakdown.
Stay tuned with the entertainment news website serialgssip.com
Latest Kumkum Bhagya Updates