Kundali Bhagya: Karan's possessive care for lady love Preeta put Mahira on fire (Upcoming Twist)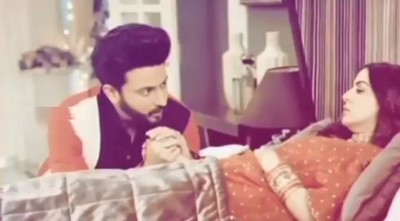 Kundali Bhagya: Karan's possessive care for lady love Preeta put Mahira on fire
ZEE TV serial Kundali Bhagya is looking forward to Karan and Preeta's lovely time.
Karan and Preeta are expecting some romance time amid Mahira is busy in plotting nasty plans.
Preeta falls unconscious in the pooja which shakes Karan to the hell.
Karan quickly rushes Preeta to the bedroom where he turns a caring hubby to his wifey Preeta.
Mahira gets pissed off seeing the entire scenario while Karan holding Preeta's hand and sitting beside her pampers her.
Karan and Preeta's love to defeat Mahira
Will Karan and Preeta's love for each other defeat their enemy Mahira.
Karan turns more possessive towards Preeta after all she kept fast for him and even fainted.
Let's see how soon Mahira will make her evil exit from the lives of Karn and Preeta.
Keep reading entertainment news website Serialgossip.com for every day update and latest news.
Latest Kundali Bhagya Updates