Anupama: Anupama ignore Rakhi's drama over Kinjal Paritosh's dicey marriage (Upcoming Episode)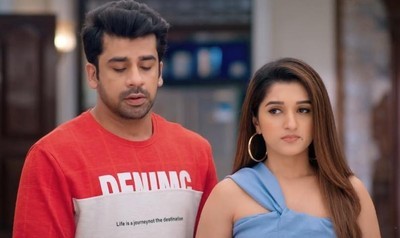 Anupama: Anupama ignore Rakhi's drama over Kinjal Paritosh's dicey marriage
The upcoming episode of Star Plus serial Anupama will showcase interesting twist.
It is Diwali and hence Rakhi comes to meet Shah family to wish them Diwali.
Rakhi wants to break Paritosh Kinjal's alliance by exposing Vanraj and Kavya's affair.
Anupama decides to fix Kinjal Paritosh's marriage date.
Here Rakhi starts creating drama hinting towards Vanraj Kavya's affair.
Anupama makes Rakhi quiet warns over Kinjal Paritosh's definate marriage
Rakhi further hints Anupama over Kinjal Paritosh's dicey marriage owing to Vanraj Kavya's affair.
While Anupama makes Rakhi quiet and ignore her drama and also warns her that Kinjal and Paritosh's marriage will definitely take place.
Will Vanraj Kavya's stupid affair break Paritosh Kinjal's marriage alliance?
Stay tuned to serialgossip.com
Latest Anupama Updates