Kumkum Bhagya: Happy Rhea stops Pragya with her to unite Prachi with father Abhi (Upcoming Twist)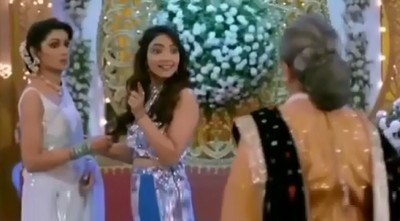 Kumkum Bhagya: Rhea stops Pragya with her to unite Prachi with father Abhi
The ups and downs in Abhi ad Pragya's life seem to get over soon with the upcoming twist of Kumkum Bhagya.
Pragya comes to meet Rhea when they both have a fight.
Rhea complaints Pragya about how much she missed her motherly love but she gave everything to Prachi.
Pragya and Rhea finally reconcile and everything gets fine between them.
Rhea is super happy to be with Pragya but she wants Pragya to stay with her.
Rhea will this time unite Prachi with their father Abhi as she makes her wish to Pragya.
Rhea takes a good decision
Aaliya's no interruption finally brings some senses in Rhea's brain.
Rhea stops Pragya with her and decides to send Abhi to Prachi so that she could spend some time with her father.
This will be really lovely to see Pragya and Abhi finally getting the love from their daughters.
Stay tuned to entertainment news website Serialgossip.com for more updates and latest news of top TV shows.
Latest Kumkum Bhagya Updates