KumKum Bhagya: Time to exchange Rhea and Prachi excited Pragya restless Aaliya (Upcoming Episode)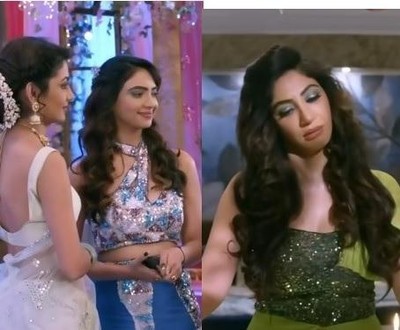 KumKum Bhagya: Time to exchange Rhea (Pooja Banerjee) and Prachi excited Pragya (Sriti Jha) restless Aaliya
The upcoming episode of ZEE TV serial KumKum Bhagya will witness an interesting twist.
It was earlier seen that Rhea and Pragya has some misunderstanding.
Now looks like by gods grace the misunderstanding is sorted.
Rhea is very happy to get Pragya in her life and Prayga too is happy.
Dadi is also happy seeing Pragya and Rhea's union.
Furthermore, Rhea is so excited that she asks Pragya to take her along and leave Prachi with Abhi.
Rhea is very happy whereas on the other side Aaliya is furious.
Aaliya decides to separate Rhea and Pragya by hook or by crook
Aalyia gets restless and decides to turn the tables for Pragya once again.
Aaliya cannot let Pragya and Rhea unite she decides separation by hook or by crook.
Let's see if Aaliya succeeds once again or Pragya's love.
Latest Kumkum Bhagya Updates