Barrister Babu: Will Anirudh send Bondita school? Gandhiji show new path to Bondita (Upcoming Twist)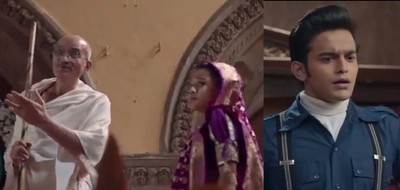 Barrister Babu: Gandhiji show a new path to Bondita got Anirudh restless to know
Colors TV serial Barrister Babu will show Gandhiji showing the right path to Anirudh and Bondita.
Bondita visits Batuk's school where Gandhiji make his entry surprising Bondita.
Bondita gets delighted to meet him where Gandhiji show a new path of education to Bondita.
Gandhiji compels Bondita to attend school and continue her education.
Where Gandhiji encourage Bondita to get admission in the school and start her studies, Bondita gets excited to inform her Pati Babu.
Anirudh gets excited to know about Gandhiji but what shocks him is Bondita demands to go to school.
Anirudh in dilemma
Anirudh gets in dilemma hearing Bondita's demand as it is quite impossible for him to send Bondita school.
It would be worthwhile to see how Bondita will fill her dreams.
Stay tuned with us for more updates.
Latest Barrister Babu Updates