Ghum Hai Kisi Ke Pyaar Mein: Virat and Sayi tie wedding knot being unaware of new storms (Upcoming Episode)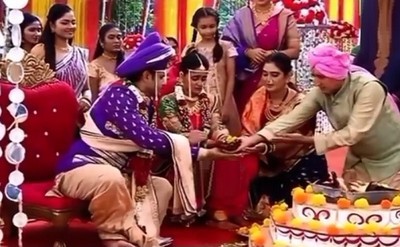 Ghum Hai Kisi Ke Pyaar Mein: Virat and Sayi tie wedding knot being unaware of new storms
Star Plus serial Ghum Hai Kisi Ke Pyaar Mein is up for Virat and Sayi's wedding.
Virat takes the decision to marry Sayi but it seems Sayi is still not ready to accept Virat.
Sayi even compels Virat to elope and she will convince everyone but Virat has made his decision.
Virat and Sayi's wedding will finally begin where Sayi is still not convinced.
Virat and Sayi get married but the new storms are on the way to complicate their marital life.
Virat and Sayi to face Pakhi's hate
Sayi is aware of Virat and Pakhi's love relation but still agrees to marry Virat because she has no choice.
Sayi compromises her life with Virat to fulfil her Aaba's last promise.
How Virat and Sayi will face Pakh's hate is going to be really tough for them.
Stay tuned with us for the next update.
Latest Ghum Hai Kisi Ke Pyaar Mein Updates