Pinjara Khubsurti Ka: Mayura throws challenge to save Omkar's life (Upcoming Episode)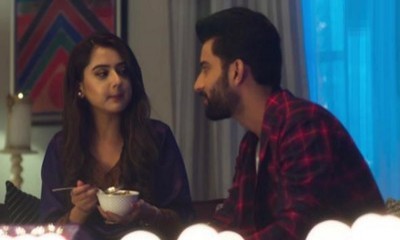 Pinjara Khubsurti Ka: Mayura opens the challenge to save Omkar's life
The upcoming episode of Pinjara Khubsurti Ka is going to see major twist in the story
Aishwarya and Manish are planning to kill Omkar but Mayura saves him every time.
Once again Aishwarya traps Omkar by plotting the fake romantic night.
Aishwarya intoxicates Omkar and turns to kill him dead but Mayura is not ready to accept the defeat so easily.
Mayura and Aishwarya face-off when Mayura throws an open challenge to Aishwarya that she will save Omkar's life from her deadly trao.
Mayura earlier revealed Omkar about how Aishwarya is after his life but Omkar ignores.
Omkar life in danger
Omkar is now in danger but Mayura is determined to protect Omkar.
Let's see how Omkar and Mayura will defeat their enemies.
Stay up to date with for latest updates and the news.
Latest Pinjara Khubsurti Ka Updates