Shaurya Aur Anokhi: Devi's villainous act to keep Shaurya Anokhi away (Upcoming Twist)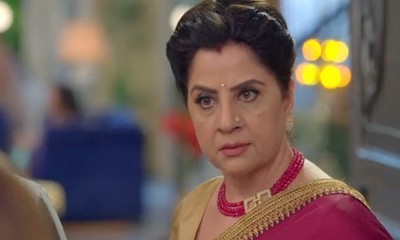 Shaurya Aur Anokhi Ki Kahani (SAAKK): Devi's villainous act to keep Shaurya Anokhi away
Star Plus TV serial Shaurya Aur Anokhi Ki Kahani will see Devi planning and plotting against Shaurya and Anokhi.
Shaurya's increasing interest in Anokhi is getting Devi ill at ease.
Devi doesn't want Shaurya to fall in love with a middle-class girl just like how Shaan fell in love with Astha.
Devi thus starts to plan and plot against Shaurya and Anokhi.
Shaurya and Anokhi's new challenges
Although Shaurya hated Anokhi in the start because she is his mother Astha's student, but not anymore.
Shaurya's mindset for Anokhi is changed after the ragging scandal.
Shaurya not only proves Anokhi innocent but he even helps her in getting justice.
So how interestingly Shaurya and Anokhi will face the upcoming challenges when Devi finds their increasing proximity.
To know more, keep reading SERIALGOSSIP.COM
Latest Shaurya Aur Anokhi Ki Kahani Updates