Shaurya Aur Anokhi: Anokhi plans special birthday Shaurya curious (Upcoming Story)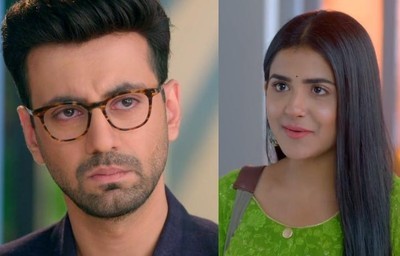 Shaurya Aur Anokhi: Anokhi plans special birthday Shaurya curious
The upcoming episode of Star Plus popular serial Shaurya Aur Anokhi Ki Kahani will showcase interesting twist and turn.
It seems Shaurya and Anokhi are always at loggerheads.
Shaurya and Anokhi can never stand together on same terms where they have different mindset.
Now Shaurya dislikes his mother and talks rudely to Aashtha while Anokhi tries to fill some sense in Shaurya but in vain.
After the hospital drama Aashta informs Anokhi about Shaurya's birthday where back in college Anokhi questions Shaurya about his birthday.
Shaurya touched to know that Anokhi is aware about his birthday
Shaurya feels touched and overwhelmed to hear this from Anokhi.
Shaurya is curious to know about Anokhi is planning something special for his birthday.
While in the next moment he gets angry when Anokhi reveals that Aastha wanted to meet him.
It would be interesting to see what happens next on the show.
Stay tuned and keep reading serialgossip.com for more updates.
Latest Shaurya Aur Anokhi Ki Kahani Updates