Mehndi Hai Rachne Wali: Pallavi in full action to confront Raghav (Latest News)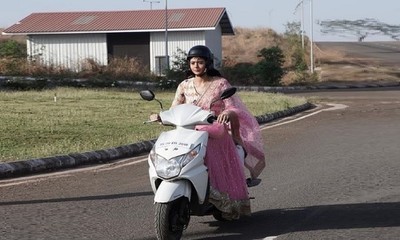 Mehndi Hai Rachne Wali: Pallavi in full action to confront Raghav
In the upcoming latest story of Mehndi Hai Rachne Wali, Raghav and Pallavi again face-off.
Raghav and Pallavi are going to have another drastic face off.
Soon after the Sangeet function, Pallavi gets another huge shocker when Raghav plays a new game.
Pallavi kick starts her scooter and rushes to meet Raghav.
Meanwhile, Raghav is also waiting for Pallavi to confront her burst out.
Raghav and Pallavi's revenge on fire
Further in the storyline, Raghav and Pallavi's revenge is on the fire and Pallavi is determined to not lost before Raghav at any cost.
It would be intensified to watch how Raghav and Pallavi's this drastic face-off will bring a new turning point in the storyline.
Stay tuned with us for more updates and the latest news.
Latest Mehndi Hai Rachne Wali Updates