YRKKH: Ila returns to mix poison in Kartik Sirat's life (Latest News)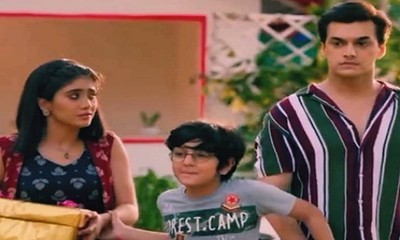 Yeh Rishta Kya Kehlata Hai (YRKKH): Ila returns to mix poison in Kartik Sirat's life
Star Plus TV serial Yeh Rishta Kya Kehlata Hai is all set to see Kartik and Sirat's wedding track.
The family has begun the rituals of Kartik and Sirat's wedding but who knew that Ila will return in Sayi's life.
Ila makes her evil entry into Goenka mansion when Sirat gets shocked to see her.
Sirat doesn't believe in Ila's fake story and ousts her from the house but Manish stops Ila.
Manish and Ila team up against Sirat
So, Manish is the one who has plotted Ila in the Goenka mansion.
Manish has cunningly bribed Ila and got her into the house only to create troubles for Sirat.
Now, this is getting intensified because Sirat very well knows that Ila has some evil motives against her.
While at the same time, Ila is here to expose Sirat's past and break Kartik-Sirat's wedding alliance.
Keep reading entertainment news website Serialgossip.com for every day update and the latest news.
Latest Yeh Rishta Kya Kehlata Hai Updates