GHKKPM: Pakhi evil laugh on Sayi as Virat handcuffs Sayi (Upcoming Story)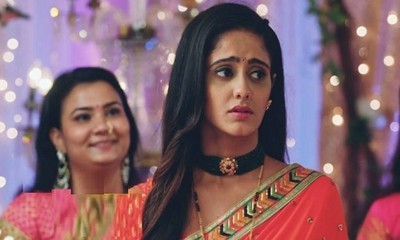 Ghum Hai Kisi Ke Pyaar Mein (GHKKPM): Pakhi evil laugh on Sayi as Virat handcuffs Sayi
The upcoming story of top TV show Ghum Hai Kisi Ke Pyaar Mein will see Virat and Sayi's drastic showdown.
With Sayi secretly getting Pulkit and Devyani married, here Virat loses his trust in Sayi and feels disappointed with Sayi's such step.
Virat is super angry at Sayi for getting Pulkit and Devyani married when Pakhi adds fuel in his anger.
Pakhi even burns Sangeeta's letter in lieu to not leave any proof for Sayi.
When Pulkit and Devyani successfully get married, the situation worsens for Sayi.
Virat turns to arrest Sayi
Though it is illegal to get a mental patient married without parent's permission, Virat turns to arrest Say on serious charges.
Pakhi's plan to create a ruckus in Virat and Sayi's life succeeds.
Pakhi gives an evil laugh as Virat handcuffs Sayi and brings her to the Chavan house only to give her a dire punishment for what she did.
Stay updated with entertainment news website serialgossip.com for top TV serials latest news and buzz.
Latest Ghum Hai Kisi Ke Pyaar Mein Updates