Kyun Utthe Dil Chhod Aaye: Randhir out of jail to marry Amrit (Upcoming Twist)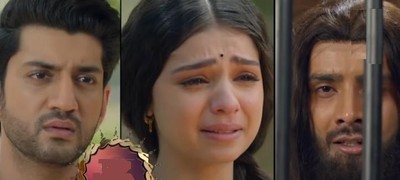 Kyun Utthe Dil Chhod Aaye (KUDCA): Randhir out of jail to marry Amrit
The upcoming episode of Sony TV serial Kyun Utthe Dil Chhod Aaye will showcase interesting twist and turn.
It was earlier seen that Amrit is missing Randhir badly where she goes to temple and seeks Mata Rani's help to unite her with Randhir.
On the other side Randhir was behind bars and missing Amrit all these years.
Randhir has written Amrit's name on wall and wanted to meet Amrit as soon as possible.
Time has finally come where Randhir is released from jail.
Veer has entered in Amrit's life to stop Randhir
Randhir on stepping out thinks that no one can stop him from uniting with Amrit this time.
However Veer has marked his entry to stop Randhir from entering Amrit's life.
It would be interesting to see what happens next on the show.
Stay tuned to serialgossip.com for more updates.
Latest Kyun Utthe Dil Chhod Aaye Updates