Kyun Utthe Dil Chhod Aaye: When Amrit met Dev for first time (Upcoming Twist)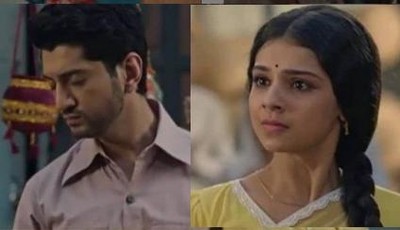 Kyun Utthe Dil Chhod Aaye (KUDCA): When Amrit met Dev for first time
The upcoming episode of Sony TV popular serial Kyun Utthe Dil Chhod Aaye will showcase interesting twist and turn.
It seems Amrit has moved to Delhi where she has moved on in life leaving her love Randheer behind.
Amrit Mogar Kiran Bala Bhanu and Saroj are all staying together.
Shocking the family members unfold Amrit's identity as maid.
Next when Amrit and Mogar heads to market rude Veer marks his timely entry only to dash his car to Mogar.
Amrit loses her temper where her blood pressure level shoot ups.
Amrit's fierce avatar to teach lesson to Veer
Amrit pull Veer out of the car and slaps him hard.
Amrit is seen in a fierce avatar to slap Veer hard to make his realsie his mistake done.
It would be interesting to see what happens next on the show.
Stay tuned to serialgossip.com for more updates.
Latest Kyun Utthe Dil Chhod Aaye Updates