Pandya Store: Shiva and Raavi kidnapped danger time ahead (Upcoming Twist)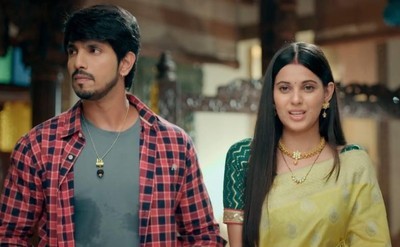 Pandya Store: Shiva and Raavi kidnapped danger time ahead
The upcoming episode of Star Plus popular serial Pandya Store will showcase interesting twist and turn.
It was earlier seen that Raavi and Shiva hates each other.
They have to reach Kuldevi temple when the duo heads on a bike.
Shiva and Raavi are left behind as there is some problem in their bike.
Raavi and Shiva help each other and they are on their way when few goons attack them.
Shiva fights out the goons but at the end he gets hit on head where he collapse.
Raavi tensed to see Shiva lifeless
Raavi is much tensed seeing Shiva lifeless.
In the upcoming track both Shiva and Raavi are seen kidnapped and kept in isolated place.
Let's see what happens next on the show.
Stay tuned to serialgossip.com for more updates.
Latest Pandya Store Updates