Pandya Store: Fierce Suman declare Divorce for Shiva and Raavi (Upcoming Twist)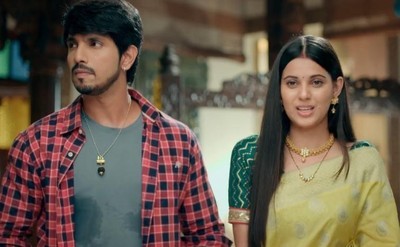 Pandya Store: Fierce Suman declare Divorce for Shiva and Raavi
The upcoming episode of Star Plus popular serial Pandya Store will showcase interesting twist and turn.
It was earlier seen that Shiva and Raavi hate each other and cannot stand each other.
Dhara had forced Shiva to marry Raavi and hence to save the family esteem on Dhara's words Shiva agreed to marry Raavi.
Shiva does not care for Raavi and is always furious on her.
Shiva handles Raavi carelessly.
Further to show his anger and hatred towards Raavi, Shiva leaves Raavi alone with the goons and returns back home.
Raavi is much upset with Shiva and wants to get freed
Raavi is much upset with Shiva's move and comes back home complaining about Shiva's cruelty.
Suman gets fed up with Raavi's complaints when she calls for divorce between Shiva and Raavi.
It would be interesting to see what happens next on the show.
Stay tuned to serialgossip.com for more updates.
Latest Pandya Store Updates