Shaurya Aur Anokhi: Ashta surprised to know Shaurya proposed Anokhi (Upcoming Episode)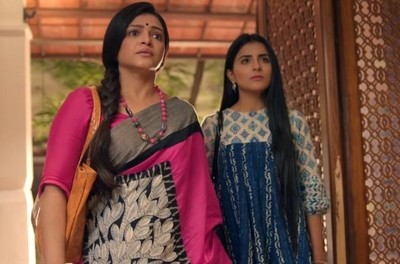 Shaurya Aur Anokhi Ki Kahani (SAAKK): Ashta surprised to know Shaurya proposed Anokhi
The upcoming episode of Star Plus popular serial Shaurya Aur Anokhi Ki Kahani will showcase interesting twist and turn.
It was earlier seen that Anokhi gets stopped and insulted by Devi from meeting Shaurya.
Devi hates Shaurya in Anokhi's life where she wants Shagun to be part of the same.
However Anokhi gets Aastha's support who takes her in to meet Shaurya.
Anokhi talks to Shaurya where she is much worried and confesses the entire truth to Aastha.
Anokhi informs Aastha about how Shaurya proposed her and she felt Shaurya is lying and the entire engagement mess up.
Aastha confronts Devi as she does not want Shaurya to suffer
Aastha gets surprised to know Shaurya proposed Anokhi and is much happy about this news.
However Aastha does not want Shaurya to suffer this time and hence confronts Devi over the same.
It would be interesting to see what happens next on the show.
Stay tuned to serialgossip.com for more updates.
Latest Shaurya Aur Anokhi Ki Kahani Updates