GHKKPM: Sayi blackmails Ninad to stay with Virat (Upcoming Episode)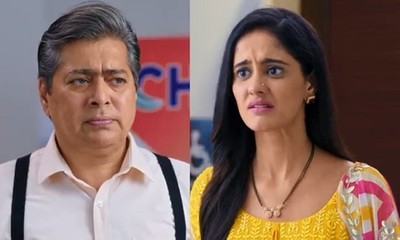 Ghum Hai Kisi Ke Pyaar Mein (GHKKPM): Sayi blackmails Ninad to stay with Virat
The upcoming episode of Ghum Hai Kisi Ke Pyaar Mein is all set to see Sayi's major clash with Pakhi.
Sayi reaches hospital to meet Virat but Pakhi stops her.
Pakhi and Sayi get into a drastic war when Ninad questions Sayi about why she didn't came when Virat went to take her.
Sayi confronts Ninad when Ninad crosses the line to not let her stay in the hospital.
Interestingly, Sayi blackmails Ninad and shuts his mouth reminding his dirty dark secrets.
Ninad gets nervous while Sayi warns Ninad to not force her open the mouth about why she left the house and who is responsible for everything.
Ninad doesn't want his and Bhavani's secret behind Pulkit's kidnapping to come out and thus he goes silent.
Sayi stands strong to meet Virat
Sayi took a strong stand for her relationship with Virat and that she has full right to meet him.
This would be interesting to watch how Virat and Sayi will reunite sidelining Pakhi.
Stay up to date with Serialgossip.com for more entertainment news and TV serial twists.
Latest Ghum Hai Kisi Ke Pyaar Mein Updates