GHKKPM: Virat Sayi propose love in hospital Pakhi kicked out (Upcoming Twist)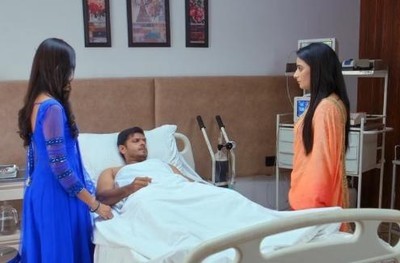 Ghum Hai Kisi Ke Pyaar Mein (GHKKPM): Virat Sayi propose love in hospital Pakhi kicked out
The upcoming episode of Star Plus popular serial Ghum Hai Kisi Ke Pyaar Mein will showcase interesting twist and turn.
It was earlier seen that Sayi and Pakhi has a tough battle to meet Virat.
When Sayi does not get permission to stay in hospital from Ninad and Pakhi, Pulkit makes arrangement for the same.
Finally Virat is out of danger when Sayi rushes to meet him and Pakhi fulfils all the formalities.
Virat is overwhelmed to see Sayi finally towards him.
Virat and Sayi spend some time together admiring each other when Pakhi comes in between and begins her drama to kick Sayi out.
Sayi and Virat come close Pakhi in tears
However this time Pakhi face big insult time as Virat asks Pakhi to go away as he wants to spend some time with Sayi.
Here Sayi and Virat comes close and they propose love while Pakhi is kicked out and is in tears.
It would be interesting to see what happens next on the show.
Stay tuned to serialgossip.com for more updates.
Latest Ghum Hai Kisi Ke Pyaar Mein Updates