GHKKPM: Sayi's wifey avatar overwhelmed Virat in hospital (Upcoming Episode)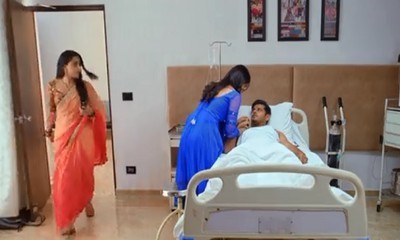 Ghum Hai Kisi Ke Pyaar Mein (GHKKPM): Sayi's wifey avatar overwhelmed Virat in the hospital
The popular TV show Ghum Hai Kisi Ke Pyaar Mein is about to see a very emotional union between Virat and Sayi.
After Virat falls into deathly danger and gets hospitalized, Sayi rushes to meet him.
Sayi even gets into a heated argument with Pakhi in lieu to meet Virat.
However, when Virat wakes up, Virat finally chooses to see Sayi and this leaves Pakhi fumed.
Sayi takes care of Virat
For the first time, Sayi realized her feelings for Virat and thus can't let her aggression and their bitter past come in between them.
As Sayi becomes a caring wifey to Virat, Virat gets super overwhelmed.
Sayi takes good care of Virat in the hospital where their moments get cozier, but will Pakhi not interrupt?
Stay tuned to entertainment news website Serialgossip.com for more updates and latest news of top TV shows.
Latest Ghum Hai Kisi Ke Pyaar Mein Updates