Mehndi Hai Rachne Wali: Bedroom Twist Pallavi grabs Raghav from neck (Upcoming Episode)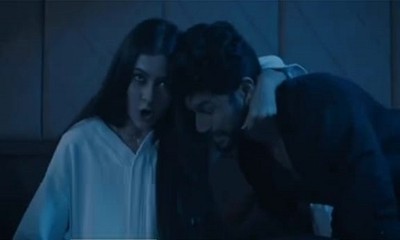 Mehndi Hai Rachne Wali: Bedroom Twist Pallavi grabs Raghav from neck
One of the finest TV series Mehndi Hai Rachne Wali is witnessing an exciting storyline with Raghav and Pallavi's increasing closeness.
Raghav is spending his day with Deshmukhs as the tenant in their flat while he returns home at the night.
When Raghav and Pallavi are forced to share a bedroom, the duos have a cute fight as Pallavi compels Raghav to sleep on the couch but Raghav is adamant to sleep on his bed.
The amazing twist comes when at midnight Pallavi gets a nightmare and she grabs Raghav from his neck.
Raghav falls into a mess
Poor Raghav faces a hard time when he tries to calm down Pallavi but Pallavi punches in his stomach and pushes him on the floor.
Raghav and Pallavi's first night together turns quite adventurous.
How Raghav will now tease Pallavi over the last night is exciting to watch next in the show.
So, make sure you don't miss the next update at SerialGossip.com
Latest Mehndi Hai Rachne Wali Updates