Saath Nibhana Saathiya 2: Gehna gets arrested last chance to Anant (Upcoming Episode)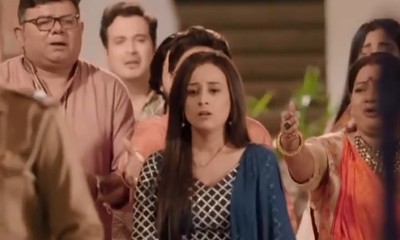 Saath Nibhana Saathiya 2: Gehna gets arrested last chance to Anant
Star Plus TV serial Saath Nibhana Saathiya 2 is gearing up for big trouble in Gehna's life.
Poor Gehna falls into major trouble when she blindly signs the modeling contract just to get 25 lacs for Kanak and Hema.
Kanak and Hema pose more problems for her when they instigate Ambrish against her.
As Ambrish forces Gehna to wear a short backless dress, Anant slaps Ambrish and saves Gehna.
However, Ambrish doesn't let Gehna go but instead, he files FIR against Gehna.
Will Anant be able to save Gehna?
Ambrish files a fraud case on Gehna and brings the Police to Desai House.
Though Gehna really has no way out, how Anant will save Gehna when the Police already arrested her.
It would be highly intensified to watch if this time Gehna will expose Kanak and Hema or she will still hide their crimes.
Make sure you follow us at SerialGossip.com so you don't miss the next big twists.
Latest Saath Nibhana Saathiya 2 Updates